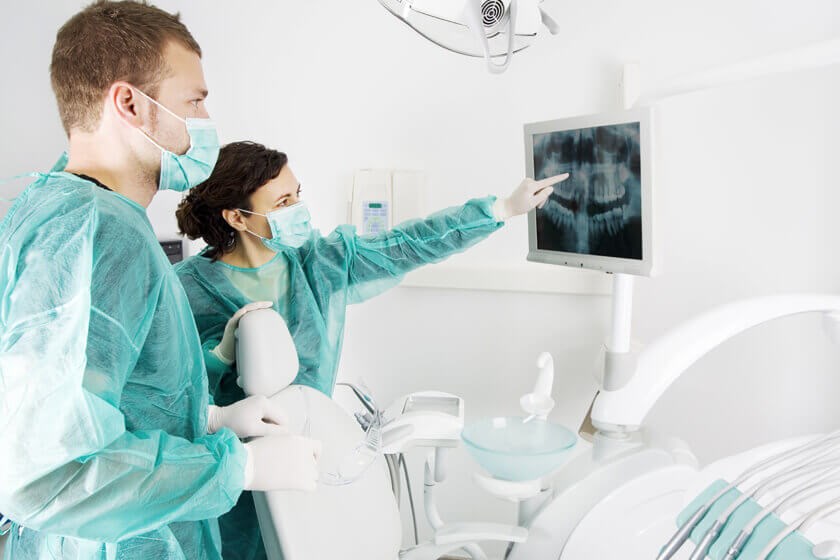 Patients who have lost several teeth are in good company: A number of individuals in Humble, TX might find themselves developing oral health problems that can result in missing teeth. As a matter of fact, an estimated 180 million Americans have experienced the loss of one tooth or many. Missing as few as one of your permanent teeth causes adverse consequences that typically impact your oral health and self-worth. After teeth are pulled because of harm from extreme decay, bone loss, or other oral issues, filling the gap as soon as possible offers the most beneficial scenario regarding your smile and oral health. Dental implant restorations are currently the preferred technique for replacing adult teeth thanks to their enduring health and aesthetic benefits. Our dental professionals at Park Lakes Dental Care have years of advanced expertise in dental implant treatments. Our team can help you determine the most effective tooth replacement procedure to suit your individual needs and cosmetic aspirations and whether or not implant dentistry is the best direction for your oral health.
THE BEST SOLUTION WHEN IT COMES TO REPLACING TEETH
Valued for their extraordinarily realistic features, dental implants are not like any other tooth replacement options provided today. Implant dentistry provides a wide scope of tooth replacement solutions and may restore any number of teeth, from just one missing tooth to an entire arch. People who are trying to change from dated tooth restorations to a more durable solution might be suitable candidates to receive this popular service. Several men and women are going with implant-based solutions to bring function, improved health, and aesthetic allure back to their teeth. Implants appear, feel, and function comparably to real teeth. With structures that closely mimic those of real teeth, it's no wonder that dental implants are hailed as the best option for tooth substitution.
THE WAY IMPLANTS SERVE THEIR PURPOSE
The unique design of the implants imitates the shape of real teeth. Dental implants use solid metal posts that act as a synthetic tooth root, as well as natural-looking crowns that return proper form and function to the smile after tooth loss. Over an interval of 3 – 6 months, the metal posts undergo a fusion process where they bond with the bone mass and become a permanent component of the mouth. Implants are incorporated within the jawbone to act as a tooth root for lasting stability and unparalleled support.
DENTAL IMPLANTS PRODUCE PROLONGED RESULTS
In regard to to replenishing missing teeth, numerous patients look for a solution that provides lasting outcomes. Implant-based solutions continue to be the only tooth replacement method that merges with the bone, replicating natural tooth roots. The process of osseointegration offers a stable structure, allowing oral crowns and bridges to stay in the mouth. The metal posts are impervious to deterioration and rarely need replacement, which means you can enjoy a full smile for the long run. When dental implants are positioned by a thoroughly talented professional who implements the latest techniques, this solution carries an exceptionally high rate of success.
RECEIVE HIGHER AESTHETIC PERKS
An attractive feature of dental implants is the life-like aesthetic qualities this tooth replacement option gives to people. Our team at Park Lakes Dental Care crafts personalized dental implant restorations that range in shape, length, and color to mix seamlessly with surrounding teeth. Dental implants resemble and seem like natural teeth, meaning that they are practically identical to real ones. Fixed restorations might also help patients have a natural-looking face contour and protect against the skin drooping that commonly forms when teeth are missing. Lone dental implants made of crowns replace single lost teeth. Meanwhile, implant-supported bridges and half- or full-arch dentures are selected to tackle numerous teeth. As a matter of fact, men and women should be aware that even an entire arch of missing teeth might be efficiently replaced with a beautiful, full-arch restoration.
IMPLANT-SUPPORTED SOLUTIONS CAN BOOST YOUR QUALITY OF LIFE
Selecting dental implants as a solution for tooth replacement can bring a number of positive changes to general lifestyle, especially for patients who have been dealing with lost teeth or have had decaying teeth for several years. Because the titanium posts are positioned firmly within the jawbone, implants offer a very stable biting power. Fixed restorations cannot shift, rock, make noise, or slip: They also don't require glue-based products to remain in position. Because implants are held in place with a sturdy titanium post within the bone, these restorations can enable patients to bite, chew, and carry on conversation without trouble. People who opt for this option often get to enjoy their favorite foods and smile with a newfound sense of self-worth while not having to dwell on the state of their oral wellness.
COULD YOU BE A GOOD CANDIDATE TO RECEIVE DENTAL IMPLANTS?
Implants are a popular treatment for individuals wishing to gain back their smile, comfort, and overall health to make up for the absence of natural teeth. These restorations are custom-created to reinstate the visual appeal and strength of the smile. Although well-suited for a number of people, dental implants do need adequate bone support and healthy gum tissue to work. If jawbone loss or other issues are preventing you from being a suitable candidate for implants, our dentists can recommend specialized treatments to improve the condition of your dental/oral wellness and promote an environment to encourage implant success.
If your oral wellness has been harmed by lost teeth, dental implants can serve as a wonderful solution for tooth replacement. The staff at Park Lakes Dental Care is eager to assess your individual problems and assist you in figuring out if implant dentistry might be appropriate for your dental health. We invite you to get in touch with our Humble, TX facility as soon as possible and begin the path toward benefitting from a higher life.