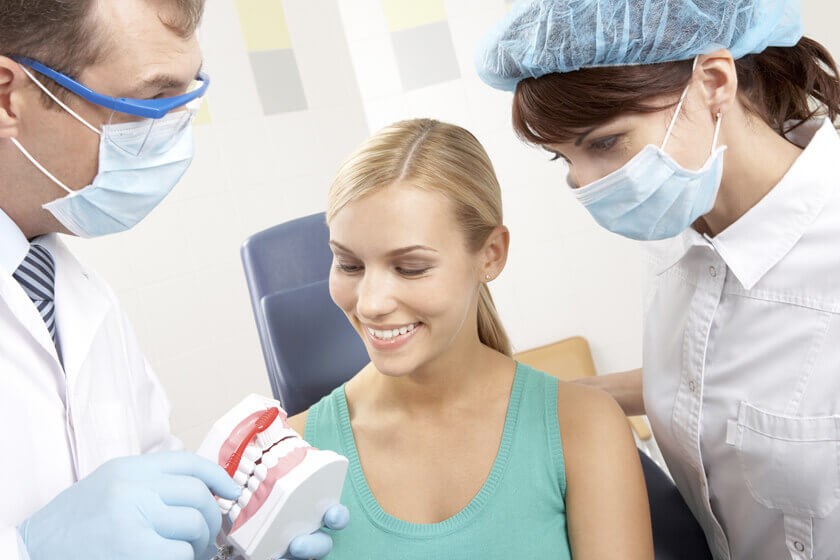 Sticking to a regular routine that involves brushing and flossing each morning and evening is necessary to ensure that your dental wellness is in its best possible standing. But what several people don't realize is that teeth cleanings done by a dental hygienist are just as necessary for your dental wellness. Routine dental cleanings, also referred to as prophylaxis, are a preventive dental care service that removes buildup and polishes the surface. Having your teeth cleaned on a twice-yearly basis will often keep plaque, tartar, stain accumulation, and numerous other conditions controlled. Removing tartar from the mouth can also get your teeth and gumline into better shape and freshen your breath.

Visiting your dentist a minimum of twice a year for professional cleanings is a crucial aspect of each person's oral care regimen. Our knowledgeable team of dental professionals and hygienists utilizes contemporary methods to perform preventive oral care treatments and better the smiles and happiness of Humble, TX residents. If you require a biannual dental cleaning or have different oral wellness problems, Park Lakes Dental Care strives to be your trusted provider of oral care. We welcome you to review this blog post to discover all that you need to know about biannual dental cleanings and the ways this commonplace dental care treatment can help your smile, now and well into the long term.

WHAT DO ROUTINE DENTAL CLEANING APPOINTMENTS ENTAIL?
Your professional dental cleaning at Park Lakes Dental Care will be tailored depending on your individual oral requirements. Various other comprehensive dentistry treatments may also be provided at a cleaning session to allow you to receive more benefits following your meetings with your dentist. Your other procedures might consist of teeth sealants and fluoride treatments. Dental cleanings by our experienced Humble, TX team are comprehensive and designed to enable you to experience your best smile.

To start, one of our hygienists will go over your medical history
Humble, TX people are typically surprised to discover that their dental health could have an effect on their total physical wellness. Prior to your dental cleaning, your current health situation, including any drugs or supplements that you've been prescribed, will be carefully reviewed. Doing this offers our team a greater understanding of your overall physical health and how it might link to your dental wellness.

Following this, someone on our highly trained team will scale and polish your teeth.
Most of your teeth cleaning session is devoted to removing food particles and buildup from your enamel. Food particles and buildup establish an environment where damaging bacteria exist and release toxins or acids that could potentially impact your oral structures, including the teeth. Our experienced hygienists at Park Lakes Dental Care can thoroughly scale the plaque and tartar from your teeth to help boost your dental wellness and decrease the potential for a number of diseases, like tooth decay and periodontal disease. Outer stains that have accumulated on the teeth from tea, coffee, or other products can also be removed for a whiter and more beautiful appeal to your smile.

Fluoride treatments could be made available to kids or teens who are prone to tooth decay.
A fluoride treatment is a helpful service we perform to help fortify the teeth and guard them from the formation of damage. This product is usually recommended for kids, but it may also aid teens and adults who show symptoms of early-stage decay, a tendency to develop cavities, vulnerable tooth root surfaces, or various other areas of concern. To help people who could be at an increased risk of developing tooth decay, fluoride can be administered to the enamel at the conclusion of their dental cleaning session.

HOW OFTEN SHOULD YOU RECEIVE A THOROUGH TEETH CLEANING?
Professional dental cleanings are often suggested at least two times a year, but those who have gum disease or various other dental concerns may need cleanings more often. Our experienced Humble, TX team will learn about your concerns and help you determine the prophylaxis schedule that's right to ensure your teeth and gumline are in their ideal condition.

PICK A DENTAL PRACTITIONER WHO'S DEVOTED TO THE WELLNESS OF YOUR TEETH
The smile is nearly always one of a person's most attractive traits. Receiving routine teeth cleanings is important to make sure that your smile is glowing, cosmetically pleasing, and in its best condition. To make this possible, it's important that you find a dentist who is just as dedicated to the health of your teeth. Our staff of oral care practitioners at Park Lakes Dental Care is devoted to enhancing the well-being of our wonderful patients with a one-on-one approach to oral treatment. We welcome local individuals to reach out to our Humble, TX office soon and arrange a visit for a biannual teeth cleaning.